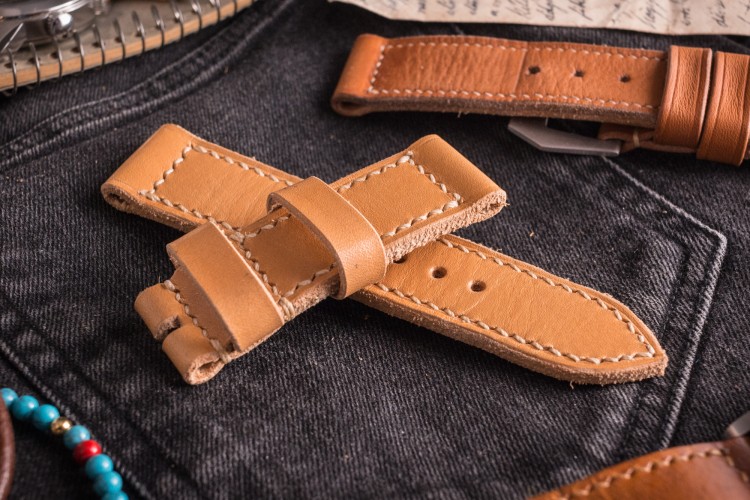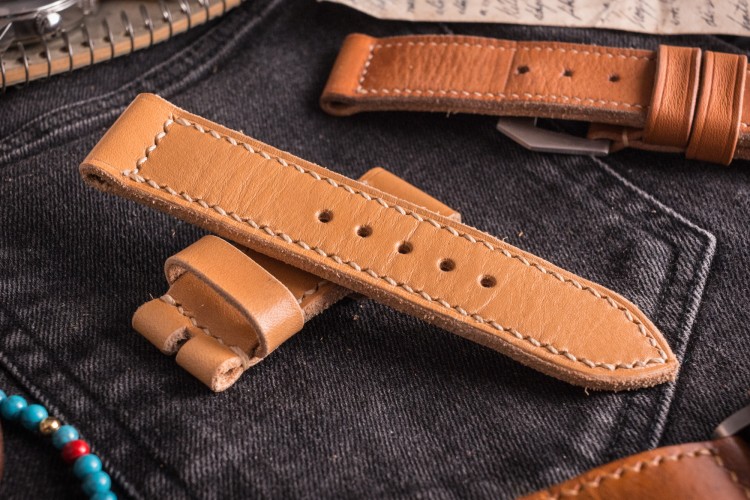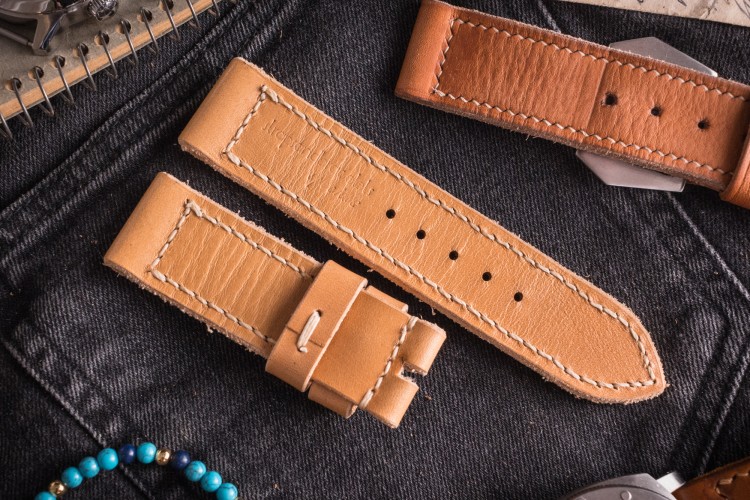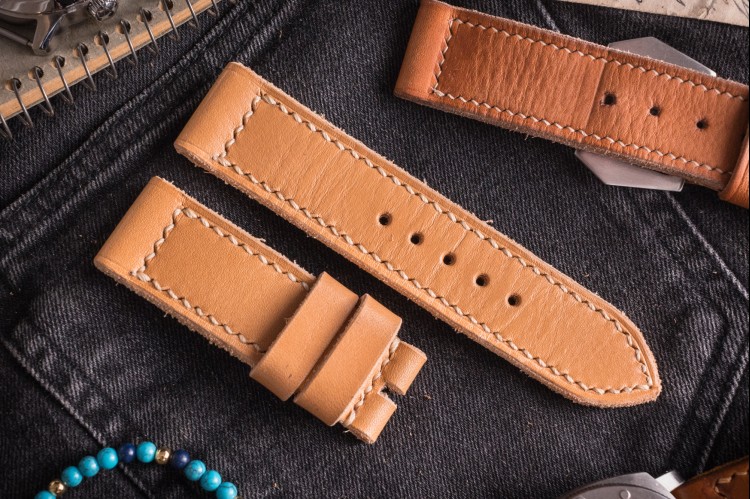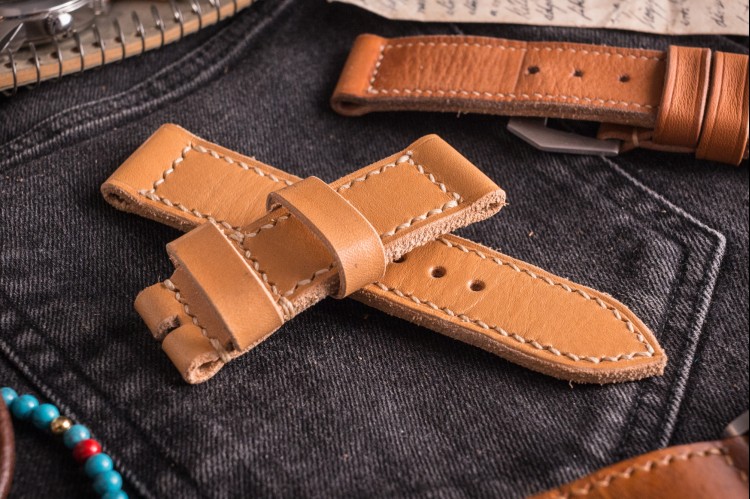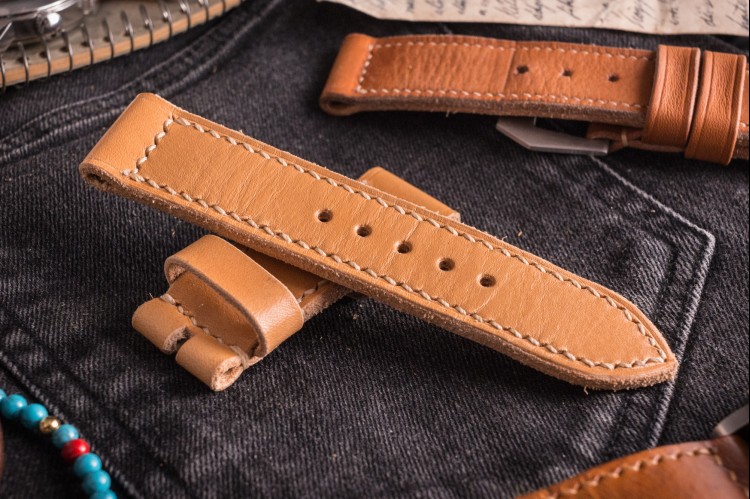 Length: 125/75mm
Width: 24mm all the way along
Thickness: Around 3.6mm
Color: Natural, light beige
Edges: Raw
Thread: Beige
Leather type: Full grain veg tan cow bend. Polished surface.
The holes are 2.0mm which is the perfect size for vintage, Pre-V (dagger) type buckles. The strap comes without buckle as standard but you can select from various types available with polished, brushed, or even black PVD finish. Please, click here for the available buckles.
This specific strap is warmly recommended for 44mm Panerai watches; however, it would go really well with watches from e.g. Rolex, Zenith, Tudor, Omega, Longines, Ennebi, and Breitling if they have the same lug width. If you would not be sure, please, don't hesitate to contact me and I will gladly check it for you.
These "STRAPSANDBRACELETS specials" straps are made from selected naturally tanned hides from Italy. To archive the lovely vintage style of the old Panerai straps from the 40s–60s they are handmade from the very beginning, using the most traditional techniques possible and each strap take around 5-6 hours to complete not including the drying processes. All stitches are made with double-needle, saddle stitching to make it as strong as possible. Saddle stitching cannot be reproduced by a sewing machine and requires more than 1,5m of thread on an average length strap, two needles, two fairly steady hands, nerves of steel, good lighting, and sharp eyes.
By purchasing this strap you will receive the exact same piece you see on the pictures. Only one was created. If it would be out of stock by the time you read this description, please, don't hesitate to contact me. I will gladly create a similar, made to order watch strap for you as per your request.
Few words about the material
Vegetable tanned leather refers to the tannage or method of tanning the cowhide into leather. It's called "vegetable" because of the natural tannins used in the tanning process like tree bark. Vegetable tanning or veg tan as it's sometimes called is one of the oldest methods of tanning known to man. It has literally been around for centuries. But less than 10% of the world's leather is tanned this way today. The entire process is very time and labor-intensive, taking up to six weeks to complete. 
What makes vegetable tanning so unique is it can be used to make thicker leather and results in more body and character - perfect for creating vintage Panerai style watch straps. Vegetable tanned leather also tends to age better and develops a rich patina over time. And it has that awesome classic leather smell.
It's important to note that natural leather is not waterproof. Please, don't swim wearing a leather watchband. In case if leather got wet do not dry it under direct sunlight because it will make it extremely stiff. Instead, please, dab off the excess water with a towel and let it dry in a nicely ventilated warm place.
Oh, I was told to place a note here that the watch or watches on the pictures are not included. :)
Handmade 24/24mm Natural Light Beige Leather Strap with Beige Stitching, 125/75mm
Stock:

In Stock

Weight:

1.00

STRAPSANDBRACELETS